A week before Christmas I treated myself to "12 Days of Slay" from Cloud 10 Beauty. I had seen the item on Pippa's Instagram and thought 'why not treat yo self!' The original price of this lavish box was something like €172, but it was reduced to just €75 – clear bargain!! How could you not buy it for yourself?! I was on the waiting list for three weeks prior to being able to order and once I finally secured the item in my basket I was delighted.
When it arrived I was even happier, once I got over the fact that the outer packaging was saturated, but the delivery man did say he'd replace it if it was ruined. I knew he wouldn't replace it as the item had sold out for three time at this stage! Anyway, here it is:
The idea of the item was great, 12 little pockets with a goodie in each one – 12 items, and three free tester items because I spent more than a certain amount. I haven't got around to trying each item yet but here are some of the ones I did try and my thoughts on my top three:
Pixi Retinol Tonic (full sized product) – this really is a tonic for the skin. Toners usually aggravate my skin as it's so sensitive (just like myself !!), but this tonic/toner genuinely didn't sting. It actually felt good on my face even if it did feel a little tight, but that's what it's meant to do. This product contains 5% Glycolic Acid. Now if you're like me and didn't complete a science subject for the leaving certificate, you may think acid burns and you shouldn't put it on your face silly! However, on further investigation Gylcolic Acid C2H4O3 is actually an excellent exfoliator and helps to firm up the skin – it really does do what it says on the tin (bottle)!

2. Dragon's Blood Fix Plumping Mask (full sized product) – This product doubles up an overnight treatment or a general face mask. The smell is quite pungent, it's an ok smell but I found it strong. I have very sensitive skin so for the first few goes I just used it as I would a regular mask. However, I do like the refreshing feeling it gives my skin and I use a thin layer overnight now. As for plumping… I don't see any results but I do like that it's refreshing and leaves the skin feeling smoother.
3 stars purely because it says 'plumping' on the tube and I didn't find it plumping! It does feel nice on the skin and your face doesn't stick to your pillow, unlike some moisturisers, if you do leave it on overnight.
3. Vita Liberata Body Blur (medium, latte 50ml)  – This is a nice product. I LOVE tan! I wouldn't put tan on my face .. Ever! But I did put this on my face and it was perfect. Normally I'd get a spot or two from tan on my face – not with this stuff. It dries quickly so act fast. I think it give brilliant coverage and there's a natural looking glow from this product. It naturally tanned the skin. It does come in three different shades. i have a friend who used this tan and she's got acne. But it works really well for her, it covers any blemishes or spots and leaves you with an Instagram filtered look.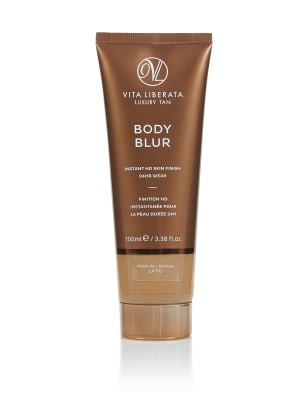 These are my top three products 12 Days of Slay by Cloud 10 Beauty. It was great fun messing around with 12 different products over Christmas. Also included in the box were:
The Ordinary Hyaluronic Acid 2% + B5 – good for dry, tight skin
DuWop Original Lip Venom – this tastes horrible! It tells you on the packaging – which by the way is huge for such a small product – that it'll will sting and make your lips feel hot and that's exactly what it does. If only they'd warn you about the taste too .. yuke!
Stila Stay All Day Lip Liquid – even after eating a three course meal this stuff was still in place! Magic! I knew this would be good.
First Aid Beauty Coconut Skin Smoothie – ideal base for makeup and I will be buying a full size version of this product.
Trilogy Rosehip Oil Antioxidant – I haven't tried this yet..
Emma Hardie Moringa Balm Cleanser Mini – the owner's surname is a suitable one word description for this cleanser. This little pot of magic removes makeup, exfoliates and cleanses. I like it.
Benefit Gold Rush Mini – fabulous light sheen of bronzer. Is there anything benefit can't get right?
Alpha-H Liquid Gold – This one is around a while now. It stings my face, maybe due to sensitive skin so I don't like to use it too often.
Paula's Choice Ultra Light Super Anti-oxidant Serum – I haven't gotten around to trying this out either.
All in all I'm sure this was worth a lot more than €75. getting new products is fun as you try them out, judge them, discuss them with friends etc. Treat yo'self!