After seeing Molly Mae's suit on 'This Morning' recently, I've definitely been influenced to purchase ! After scouring the internet I've found it difficult to find brightly coloured, show stopping suits. Then I landed on ASOS! With colours, sizes and categories to fit all body types, it has something for everyone. Here's some of what I found.
#1 Petite Trouser Suit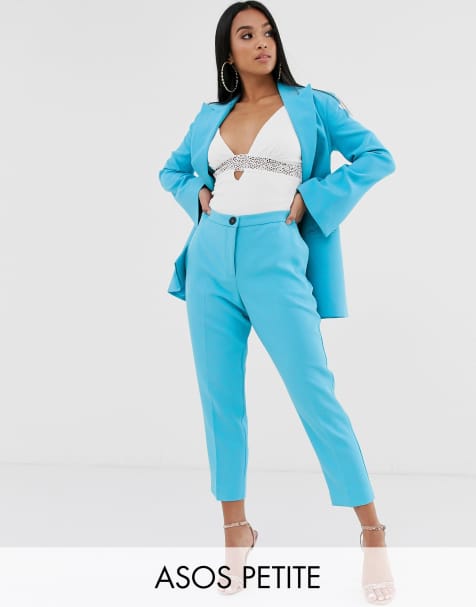 This trouser suit is very similar to Molly Mae's. But enough about the 19 year old from Love Island !! I love the colour of this suit – pop blue. Wearing this would make you literally 'pop' out of the crowd ! I also like that it's not skin tight either, I think everything being slim tight is slowly but surely going out of fashion. Overall this is a clean, crisp suit in a vibrant colour and I love it.
#2 ASOS Design split front slim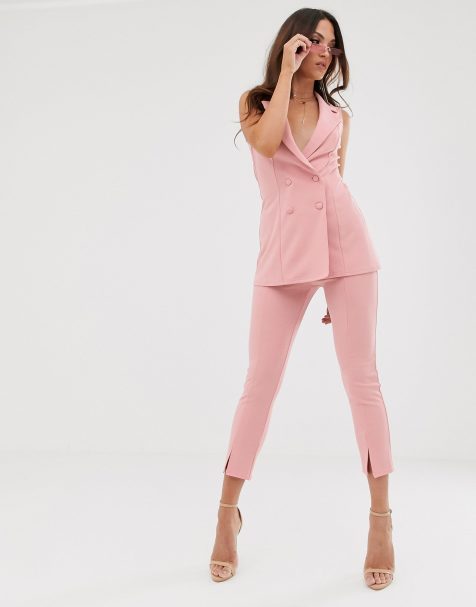 My favourite detail of this suit, well actually I have two! The first one is the sleeveless jacket, I think this is perfect for a glam, effortless night out. A perfect option for dinner/drinks after work.
My second favourite detail is the split front trouser. I know I just said I'm no longer a fan of skin tight clothing, especially trousers, but the slight split is very much on trend as you'll see in #3.
#3 Front Split Skinny Trousers
So I may not be a fan of skinnys and here I am again – in the skinny section! And I'm wearing skinnys as I type, it's a love/hate relationship. So last September, Victoria Beckham unleashed her new front split trousers down the catwalk .. she didn't personally strut her stuff on the catwalk ! She's been seen sporting these front split trousers herself in all colours. The idea behind them is that you can show off your expense shoes when wearing these bad boys. A pair of VB's front split trousers only cost about €630 ! Oh and hurry up because that's the sale price, they were €1,260 !! Just so you can show off your expensive shoes?? I think the trousers would be enough to show off at that price.
#4 ASOS Design vinyl track suit pant
Track suit pant – it even sounds comfortable ! I have a pair of these pants and they are so comfortable.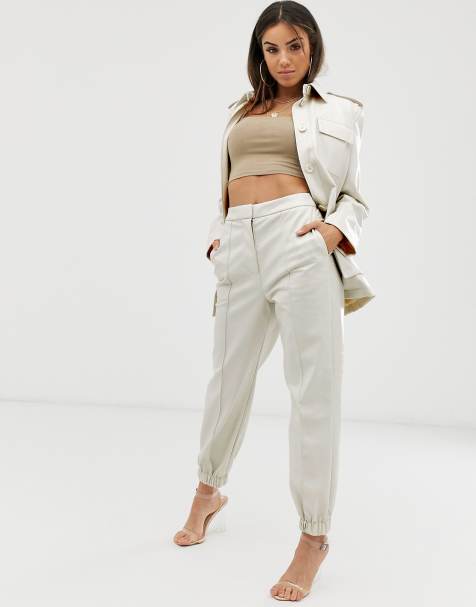 It's basically a formal pair of trackies ! With the perfect heels you're set to go and they're not figure hugging – win.
I love the line detail running down the front of the pants (I don't know the technical name). But I think it give a lovely shape to the trousers.
#5 ASOS Design extreme high waist trouser suit
Love love love this casual suit. Again its a vibrat colour with a wide leg trouser – hallelujah !! I have blonde hair and I always thought yellow would be the wrong colour to wear but clearly I'm wrong.
I love the bow tie detail on the jacket and the trousers are breathable, but on trend. This suit is a winner for me.
Thanks for reading my fav suit options.